published on 11 January 2019 @ 4:48 pm · COMMENT
BARTLAW Canadian Immigration News
Parent and Grandparent Sponsorship Re-Opens on January 28, 2019
On noon, January 28, 2019, Canadian Immigration will reopen the parent and grandparent sponsorship category.  The government has increased the annual cap on applications to 20,000  in 2019.  This is about 4 times the number of applications accepted in 2015. Processing also promises to be within a more reasonable timeline of two years.
This program promotes family re-unification and encourages skilled worker immigration to Canada. Given the immigration uncertainties resulting from the forthcoming federal election, this is an important opportunity for those wishing to bring their parents and grandparents to Canada.
Please contact us for further information on this program.
Express Entry Skilled Worker Program Continues to Attract Global Talent
Canada's Express Entry immigration program remains a popular immigration option attracting skilled workers from around the world to Canada.
Under the Express Entry system, applicants create an online profile and are accorded a score based on a number of factors, including their age, education, work experience, English language proficiency and ties to Canada. Immigration, Refugees and Citizenship Canada (IRCC) periodically issues invitations to apply for permanent residence to the highest-scoring applicants in the pool.
Below is a summary of the rounds of invitations issued over the last six (6) months, and the lowest scores selected in each.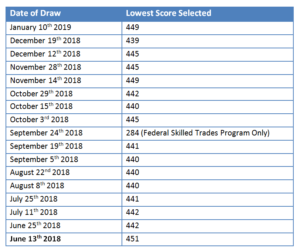 Canada Expands Biometric Requirements in 2019
As of December 31, 2018, foreign nationals from Asia, Asia Pacific and the Americas must provide their biometrics when applying for a visitor visa, study or work permit, or for permanent residence. Applicants from Europe, the Middle East and Africa have been subject to this biometric requirement since July 31, 2018.
IRCC states that the intention of this expansion is to effectively manage identity, facilitate application processing, simplify entry for travelers with legitimate identities, and increase biometric-based information sharing between Canada and the US, Australia, New Zealand, and the United Kingdom.
For temporary resident applications, biometric results will be valid for ten years. Temporary resident applicants are not required to submit subsequent biometrics until the expiry of this ten-year period, regardless of whether their temporary residence application was approved or refused. Permanent residence applicants must provide their biometrics each time they apply.
This new biometrics requirement adds an additional step in the application process, as well as a fee of $85 per individual applicant. Foreign nationals who require a visa to enter Canada must complete their biometrics exam only after they have filed their application and received a biometrics instruction letter from IRCC. Since IRCC will not process applications until biometrics have been completed, this step will likely cause delays to application processing times.
While there are approximately 137 Visa Application Centres (VACs) equipped to collect biometrics in 95 countries, there are some countries where few official biometrics collection centres are available. In these cases, applicants may be required to travel significant distances in order to complete this preliminary requirement, which does not guarantee the success of their application.
For visa-exempt nationals who are applying for work or study permits at the port of entry, biometrics collection services are available at major Canadian ports of entry. A complete listing of all available biometrics service points, including ports of entry, can be found at the following web address.
Exemptions to the biometrics requirement include: Canadian citizens, citizenship applicants (including passport applicants), and existing permanent residents; persons under 14 years old and over 79 years old (there is no upper age limit for asylum claimants); US nationals applying for temporary residence documents only; visa-exempt nationals coming to Canada as tourists, who hold a valid electronic travel authorization (eTA); cabinet ministers and accredited diplomats of other countries and the United Nations, coming to Canada on official business; and heads of state and heads of government.
There is currently a temporary public policy exemption in place for in-Canada applications. All individuals residing in Canada, who submit an in-Canada temporary or permanent residence application, are exempt from the biometric requirement until biometrics collection services are in place inside Canada. IRCC has indicated that the in-Canada biometrics collection program will be operational in 2019, although no further details are available as of today's date.
IRCC has indicated that there are technical safeguards in place to ensure that the applicant's information is collected, stored and transmitted securely using encryption. According to IRCC, biometrics information is deleted from the collection system once it has been successfully transmitted to the Canadian Immigration Biometrics Identification System.