published on 28 October 2020 @ 8:33 am · COMMENT
BARTLAW LLP In Global Legal News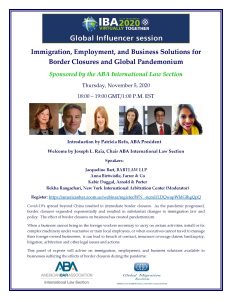 Jacqueline Bart, Managing Partner of BARTLAW LLP, Canadian Immigration, Barristers and Solicitors, will be speaking at the International Bar Association (IBA) on an American Bar Association (ABA) Panel for the International Law Section on Canadian Immigration for the following topic: Immigration, Employment, and Business Solutions for Border Closures and Global Pandemonium. The American Immigration Lawyers' Association is also co-sponsoring the program.
The Panel Agenda and speakers for this IBA session are as follows:
Introduction by Patricia Refo, ABA President
Welcome by Joseph L. Raia, Chair ABA International Law Section
Speakers:
Jacqueline Bart, BARTLAW LLP (Immigration)
Anna Birtwistle, Farrer & Co (Employment)
Kabir Duggal, Arnold & Porter (Litigation/Arbitration)
Rekha Rangachari, New York International Arbitration Center (Moderator)
Program Summary: Covid-19's spread beyond China resulted in immediate border closures. As the pandemic progressed, border closures expanded exponentially and resulted in substantial changes to immigration law and policy. The effect of border closures on business has created pandemonium. When a business cannot bring in the foreign workers necessary to carry on certain activities, install or fix complex machinery under warrantee or train local employees, or when executives cannot travel to manage their foreign-owned businesses, it can lead to breach of contract, insurance coverage claims, bankruptcy, litigation, arbitration and other legal issues and actions. This panel of experts will advise on immigration, employment, and business solutions available to businesses suffering the effects of border closures during the pandemic.